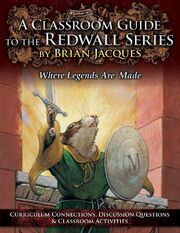 A Classroom Guide to the Redwall Series by Brian Jacques: Where Legends Are Made is a printable discussion guide created by Philomel as a companion to the Redwall series in 2009. Its authorship was attributed to Brian Jacques. As of 2010, it is located under the "Books 4 Boys" printables section of the Penguin website.
Summary
This 16-page guide contains lessons and discussion questions for teachers planning on using the Redwall Series in a classroom setting. The main headings are:
Q&A: Mr. Jacques Responds to Fans' Questions
Writer's Workshop & Journaling Exercises
Series Discussion Questions
Series Extension Activities
Classroom Lesson Plans & Activities Across the Curriculum
Teaching the Art of Storytelling Basics
A Great Redwall Feast
The guide also contains publication information on the series, which is listed in chronological order on the final page of the text block.
The guide contained illustrations by Gary Chalk, David Elliot, and Christopher Denise.
External Links