Abbot Saxtus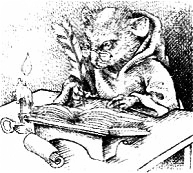 Saxtus, a male harvest mouse, was the childhood friend of Dandin and Durry Quill. Unlike other Dibbuns, Saxtus was known for being well-behaved and studious. Saxtus helped to defend Redwall, when Greypatch with his crew tried to overrun the Abbey; his weapons were the sling and the spear. He succeeded Abbot Bernard, and was the ruling Abbot when the story of Martin the Warrior was finally told to the citizens of Redwall. He also served as Abbey Recorder for a stint of time. Saxtus later became good friends with Simeon, Rufe Brush, and Joseph the Bellmaker. Saxtus was succeeded by Abbess Vale.
Not to be confused with Abbot Saxus.
Ad blocker interference detected!
Wikia is a free-to-use site that makes money from advertising. We have a modified experience for viewers using ad blockers

Wikia is not accessible if you've made further modifications. Remove the custom ad blocker rule(s) and the page will load as expected.