Ad blocker interference detected!
Wikia is a free-to-use site that makes money from advertising. We have a modified experience for viewers using ad blockers

Wikia is not accessible if you've made further modifications. Remove the custom ad blocker rule(s) and the page will load as expected.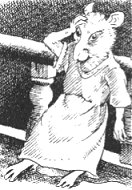 Allan Curless was a Redwall chapter icon illustrator. He was also a political cartoonist for 16 years, working mostly for the Sunday Times. Marlfox, the first book published after his death, was dedicated to him.
Born: 1950
Education: Gloucestershire College of Art and Design
Died: 1997
Other Works
A Fourth Poetry Book (1987) by John Foster (Editor)
Spaceways: An anthology of space poems (1987) by John Foster (Editor)
Mr. Punch (1989) by Catherine Macaskill
A Tolkien Bestiary (1990) by David Day
Daniel's Train (1995) by Angela McAliser and Allan Curless
Time Flies (1996) by Mary Hooper
Cat's Song (1996) by Andrew Matthews
Shipshape (1996) by Sally Grindley
If you want to be a cat (1997) by Joyce Dunbar
Books
Other