Antre de Loubia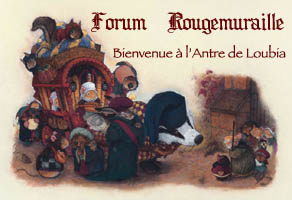 | | |
| --- | --- |
| Lead Administrator: | Torn |
| Status: | Offline |
| Foundation: | 2002 |
| Cessation: | 2015 |
| Updates: | Never |
| Main Language: | French |
| Type of Site: | Encyclopedia/Forum |
L'Antre de Loubia (translated more or less literally to "the Holt of Lutra") was the largest francophone online community site dealing with Redwall. Its first known appearance online occurred in 2002.
The site contained an encyclopedia and a forum with a modest level of activity. In late 2005 it was brought down by a Turkish hacker, and was remade entirely by January 16, 2006. The administrator went by the pseudonym Torn.
As of 2014, the domain was active, but no content loaded. As of 2015, the site is officially nonexistent, and the URL redirects to a lyrics website.
Forum
The L'Antre de Loubia forum was actually located at a different URL, and could be found at http://antredeloubia.free.fr/forum/. It was the largest French Redwall forum online, with a decent rate of posts per week. Though the French and English speaking communities have stayed more or less isolated from each other, at least two members of l'Antre de Loubia (Hisk and Tesra) made appearances on English language ROC forums in the past.
As of 2012, the forums are no longer online.
Rougemuraille Wiki
In April 2007, Torn founded the Redwall Wiki's sister site, the Rougemuraille Wiki. It has been seemingly vacant since 2011.
Ad blocker interference detected!
Wikia is a free-to-use site that makes money from advertising. We have a modified experience for viewers using ad blockers

Wikia is not accessible if you've made further modifications. Remove the custom ad blocker rule(s) and the page will load as expected.