Arflow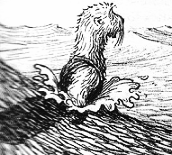 Arflow was a young sea otter who witnessed the mass slaughter of Salamandastron hares by the horde of Gulo the Savage while on his first journey without the accompaniment of his parents. He was the older brother of Matunda.
Arflow later identified Rakkety Tam and Wild Doogy Plumm as not being the murderers.
Ad blocker interference detected!
Wikia is a free-to-use site that makes money from advertising. We have a modified experience for viewers using ad blockers

Wikia is not accessible if you've made further modifications. Remove the custom ad blocker rule(s) and the page will load as expected.