Asio Bardwing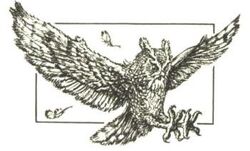 Asio Bardwing was a tawny owl that traveled with Mad Maudie Mugsberry Thropple. He thought that Maudie was a magical beast, but seemed to suffer from short-term memory loss. He played an instrument called an owlharp, though not too well. Asio was good friends with Bungwen the mole and Log-a-Log Luglug. He had an Auntie Cordoolia and an Uncle Wilfrum. He spoke in an archaic manner with a Highland accent.
Although not too bright, Asio was very courageous, to the point of being perilous, when he sacrificed his own life to save a shrewbabe from an adder. After he was bitten, he was under the impression that his assailant was a grass snake or a slow worm and soon died from the venom. The shrew he saved had his name changed by his mother to Asio, after his brave rescuer.
Trivia
Asio is the genus of eared owls.