Ben Stickle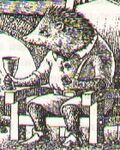 Ben Stickle was the husband of Goody Stickle, and the father of Ferdy, Coggs, Posy and Spike. He and his wife adopted and raised Gonff the Mousethief when he was a young orphan. Gonff's parents were said to have died during the rebellion against Verdauga Greeneyes, although this was never a confirmed fact.
Ben and Goody were farmers and among the very last to leave the area of Kotir and become members of the Corim. Having suffered first hand from the tyranny of the Kotir rulers, Ben and his wife supported wholeheartedly the struggle against Tsarmina Greeneyes. Generous at heart, the Stickles frequently hosted meetings for the Corim and provided food for the fighters. Ben himself was more of a peaceful hedgehog and took part in very little fighting. Nonetheless he was one of the first to propose to save Gonff from prison and could always be depended upon for support and concrete help.
Although Ben was never an active warrior, he knew how to recognize one, and he was one of the first in Mossflower Woods to comment on Martin the Warrior's strength and warrior spirit.