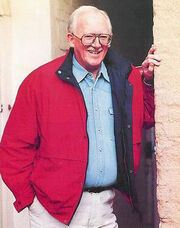 For other uses, please see Bill (disambiguation)
Bill Tidy is an internationally praised English cartoonist, known for his work with newspapers, tv shows, board games, and more. He illustrated most of Brian Jacques' early work.
Tidy took to professional cartooning in 1957, and married his wife Rosa in 1960. They have three children and three grandchildren.
He was awarded an MBE(Member of the Order of the British Empire) in 2000.
Born: October 9 1933, Tranmere, Cheshire, UK
Resides: Liverpool, UK
Books
Ancient Obscenities (2006)
Tidy Book of Quotations (1998)
A Game of Two Halves, Brian (1996)
"Is There Any News of the Iceberg?": an Illustrated Autobiography (1995)
Soft Pawn: The Uncensored Sequel to How to Cheat at Chess (1995)
How to Cheat at Chess: Everything You Always Wanted to Know About Chess, but Were Afraid to Ask (1994)
Save Daring Waring with a Pencil? (1993)
Rosa Tidy's Pasta Book (1991)
Draw Me...387 Baked Beans in 10 Seconds (1991)
Bill Tidy: Drawings, 1957-1986 (1986)
Out Of Practice (1981)
The Book of Heroic Failures: The Official Handbook of the Not Terribly Good Club of Great Britain' (1979)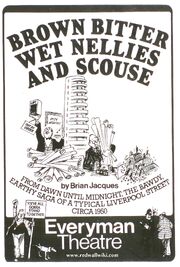 Comic Strips
The Fosdyke Saga (Daily Mirror)
The Cloggies (Private Eye)
Grimbledon Down (New Scientist)
Dr. Whittle (General Practitioner)
Kegbuster (What's Brewing?)
Designed
External Links
Ad blocker interference detected!
Wikia is a free-to-use site that makes money from advertising. We have a modified experience for viewers using ad blockers

Wikia is not accessible if you've made further modifications. Remove the custom ad blocker rule(s) and the page will load as expected.