Ad blocker interference detected!
Wikia is a free-to-use site that makes money from advertising. We have a modified experience for viewers using ad blockers

Wikia is not accessible if you've made further modifications. Remove the custom ad blocker rule(s) and the page will load as expected.
Bluddbeak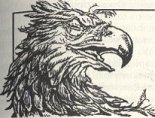 Bluddbeak, a giant red kite, was described as ancient and huge. He lived in the Northern Mountains and was a good friend to Ovus, a tawny owl who visited Redwall every now and again. Bluddbeak had been renowned for killing adders in his younger days; when Ovus heard of the danger of Zassaliss, Harssacss, and Sesstra (all adders) to the creatures of Redwall Abbey, he immediately went off to find his friend.
When the duo returned, however, the Redwallers were shocked to find that the red kite was hardly more than a half-blind relic, not in any sort of fighting shape; but Bluddbeak was insistent that he was afraid of no beast and went with the owl to seek out and destroy the three adders. Both birds were slain by the snakes; Ovus' body was buried by the Redwallers but the remains of Bluddbeak were never found.
Bluddbeak and Stryk Redkite's family are the only kites in the Redwall series.
Bluddbeak in Media