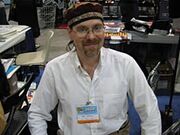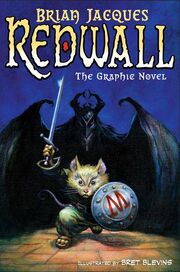 Bret Blevins is the illustrator for the graphic novel adaptation of Redwall, which was adapted by Stuart Moore.
Born: August 16th, 1960, USA
Resides: Prescott, AZ
Blevins always wanted to be a comic artist, and began work as a professional in 1982 with Marvel Comics. He has worked for publishers in addition to Marvel, such as DC and Dark Horse, illustrating series like Batman, Superman, Supergirl, Spider-man, X-Men, Daredevil, Indiana Jones, Conan, The Incredible Hulk, Star Wars, Sleepwalker, New Mutants, and The Dark Crystal.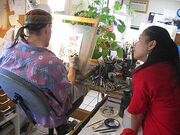 Since 1996 Blevins has worked in television, drawing storyboards for Warner Bros, Disney, Cartoon Network, and others. Animated series he has worked with include Superman, Batman, Batman Beyond, Static Shock, X-men Evolution and The Justice League of America.
Disney movies include Tarzan and Atlantis.
Blevins is also a regular contributor to Draw! Magazine.
Works
Inhumans (1988)
Sleepwalker (No. 1) (1991)
Sleepwalker (No. 2) (1991)
Sleepwalker (No. 5) (1991)
Sleepwalker (No. 6) (1991)
Sleepwalker (No. 7) (1991)
Batman Knightfall: Shadow of the Bat #16 (The God of Fear; Part One of Three) (1993)
Batman Knightfall: Shadow of the Bat #17 (The God of Fear; Book Two of Three) (1993)
Batman Knightfall: Shadow of the Bat #18 (The God of Fear; Book Three of Three Conclusion) (1993)
Essential X-Men Volume 6 (2005)
Essential X-Men Volume 7 (2006)
The Best of Draw! Volume 1 (2006)
The Best of Draw! Volume 2 (2006)
The Monster Hunters : The Mystery of the Missing Mugwump (2006)
Essential X-Men, Vol. 5 (Marvel Essentials) (2007)
Redwall: The Graphic Novel (2007)
Artwork
Websites