Ad blocker interference detected!
Wikia is a free-to-use site that makes money from advertising. We have a modified experience for viewers using ad blockers

Wikia is not accessible if you've made further modifications. Remove the custom ad blocker rule(s) and the page will load as expected.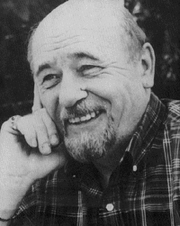 The following is a complete list of all known tours Brian Jacques has embarked on starting with the year 2001. He was on tour prior to this, if you'd like to update that section feel free! This page serves as a historical record as to where Mr. Jacques has been.
Summer
Spring
| Date/Time | Venue | City | State/Country |
| --- | --- | --- | --- |
| April 12 2:30PM | Bebington Central Children's Library (Wirral Bookfest), Civic Way | Bebington, Wirral, Merseyside | England,UK |
Summer
| Date/Time | Venue | City | State/Country |
| --- | --- | --- | --- |
| July 9 | Pritchard's Bookshop 54 Brows Lane | Formby, Merseyside | England,UK |
Fall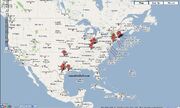 | Date/Time | Venue | City | State/Country |
| --- | --- | --- | --- |
| October 16 6-8PM | Merritt Bookstore 57 Front Street Box 918 | Millbrook | NY, USA |
| October 17 4-6PM | Brookline Public Library (hosted by Children's Bookshop) 361 Washington Street | Brookline | MA, USA |
| October 18 2-4PM | Old Town Hall 20 Main St | Andover | MA, USA |
| October 19 2-4PM | Barnes & Noble 1 Worcester Rd | Framingham | MA, USA |
| October 21 6-8PM | Cover to Cover 3560 N. High Street | Columbus | OH, USA |
| October 22 6-8PM | Books & Co 4453 Walnut Street | Dayton | OH, USA |
| October 23 7-9PM | Joseph Beth Booksellers 161 Lexington Green Cir # B | Lexington | KY, USA |
| October 25 3-5PM | BookPeople 603 North Lamar | Austin | TX, USA |
| October 26 2-4PM | Borders 255 E. Basse Rd, Ste 350 | San Antonio | TX, USA |
| October 27 5-7PM | Children's Museum of Houston 1500 Bintz | Houston | TX, USA |
| October 30 6-8PM | St. Elizabeth Ann Seton School 925 S Boulevard (hosted by Best of Books) | Oklahoma City | OK, USA |
| November 1 | New York Public Library Book Fest Conference Bartos Forum 42nd & 5th Ave | New York City | NY, USA |
| November 3 12:30PM | St George's Hall | Liverpool | England,UK |
| November 22 2PM | The Christmas Market Liverpool College, Queens Drive, Mossley Hill | Liverpool | England, UK |
Summer
| Date/Time | Venue | City | State/Country |
| --- | --- | --- | --- |
| May 30 2:30PM | Hay Festival, The Drill Hall, 25 Lion Street | Hay-on-Wye | Wales,UK |
| July 7 | University of Liverpool | Liverpool | England, UK |
| August 12 1:30PM | Edinburgh International Book Festival | Edinburgh | Scotland,UK |
Fall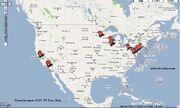 Mr. Jacques will be touring the US from October 13 - November 18
| Date/Time | Venue | City | State/Country |
| --- | --- | --- | --- |
| September 30 | Bath Literary Festival | Bath | England,UK |
| October 1/2 | TBA | Bristol | England,UK |
| October 13 2PM | Children's Book World | Haverford | PA, USA |
| October 14 2PM | Border's | Newark | DE, USA |
| October 16 4:30PM | Politics & Prose | Washington DC | USA |
| October 17 6:30PM | Books & Crannies | Middleburg | VA, USA |
| October 18 7:30PM | Border's | Bailey's Crossroads | VA, USA |
| October 20 10:30AM | Carnegie Library Lecture Hall | Pittsburgh | PA, USA |
| October 21 2PM | Barnes & Noble The Stacks at the Waterfront 100 West Bridge Street | Homestead | PA, USA |
| October 23 7PM | Anderson's | Naperville | IL, USA |
| October 24 7PM | Border's | La Grange | IL, USA |
| October 25 10:30AM | Bookstall at Chestnut | Winnetka | IL, USA |
| October 27 1PM | Wild Rumpus 2720 West 43rd St. | Minneapolis | MN, USA |
| October 28 2:30PM | Border's | Woodbury | MN, USA |
| October 29 7PM | Hennepin County Library | Minnetonka | MN, USA |
| October 31 7PM | Books & Co | Oconomowoc | WI, USA |
| November 1 7PM | Borders | Fox Point | WI, USA |
| November 3 | Towne Center Books | Pleasanton | CA, USA |
| November 4 2PM | Barnes & Noble 1149 S. Main St. | Walnut Creek | CA, USA |
| November 6 7PM | Kepler's 1010 El Camino Real | Menlo Park | CA, USA |
| November 7 3PM | Hicklebee's | San Jose | CA, USA |
| November 8 5PM | A Whale of a Tale Children's Bookshoppe 4199 Campus Drive, Suite A | Irvine | CA, USA |
| November 10 11AM | Mrs. Nelson's Toy & Book Shop 1030 Bonita Ave | La Verne | CA, USA |
| November 10 4PM | Barnes & Noble Bella Terra 7881 Edinger Ave. #110 | Huntington Beach | CA, USA |
| November 11 3pm | Barnes & Noble 3rd Street Promenade 1201 3rd Street | Santa Monica | CA, USA |
| November 17 | NCTE Annual Convention | New York City | NY, USA |
| November 18 1PM | Leonard Nimoy Thalia at Peter Norton Symphony Space | New York City | NY, USA |
Summer
| Date/Time | Venue | City | State/Country |
| --- | --- | --- | --- |
| June 12 6:00PM | Seven Stories | Newcastle | UK |
| June 13 | Alder Hey Children's Hospital | Liverpool | UK |
| June 14 4:00PM | Borders, 48-56 Queen's Road | Clifton, Bristol | UK |
| June 15 4:00PM | The Guildhall Arts Centre | Gloucester | UK |
| June 16 6:30PM | Ottakar's Unit 72, Midsummer Place, Milton Keynes, | Bucks | UK |
| June 18 5:00PM | The Word Festival Polka Theatre Wimbledon, 240 The Broadway | Wimbledon, London | UK |
Fall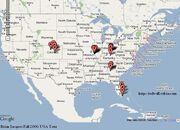 | Date/Time | Venue | City | State/Country |
| --- | --- | --- | --- |
| September 23 2PM | Barnes & Noble 8374 South Willow Street | Lone Tree | CO, USA |
| September 24 2PM | Borders Books & Music 2120 Southgate Road | Colorado Springs | CO, USA |
| September 26 7PM | Tattered Cover 9315 Dorchester Street | Highlands Ranch | CO, USA |
| September 27 6:30PM | Vail Mountain School 3000 Booth Falls Rd. | Vail | CO, USA |
| September 28 6:30PM | Boulder Book Store 1107 Pearl Street | Boulder | CO, USA |
| September 30 1PM | Barnes & Noble 320 Mid-Rivers Center Drive | St. Peters | MO, USA |
| October 1 2PM | Borders Books & Music 1519 S. Brentwood Blvd. | Brentwood | MO, USA |
| October 3 6:30PM | Piece of Mind Books 1530 Troy Road | Edwardsville | IL, USA |
| October 4 7PM | Kirkwood Public Library 140 East Jefferson Avenue | Kirkwood | MO, USA |
| October 5 7PM | St. Louis Public Library 4401 Hampton Avenue | St. Louis | MO, USA |
| October 7 2PM | Barnes & Noble 7800 Montgomery Rd. | Cincinnati | OH, USA |
| October 8 2PM | Borders Books & Music 5105 Deerfield Blvd. | Mason | OH, USA |
| October 10 7PM | Northern Kentucky University, Business/Education/Psychology 200 Auditorium | Ft. Thomas | KY, USA |
| October 11 7PM | Joseph-Beth Booksellers 3199 Nicholasville Rd. | Lexington | KY, USA |
| October 12 7PM | Blue Manatee 3054 Madison | Cincinnati | OH, USA |
| October 14 4PM | Barnes & Noble 7660 North Point Parkway, Ste 200 | Alpharetta | GA, USA |
| October 15 2PM | Borders Books & Music 4475 Roswell Rd. - Ave. E. Cobb | Marietta | GA, USA |
| October 17 6PM | Books a Million 258 City Circle | Peachtree City | GA, USA |
| October 18 7PM | West Palm Beach Library, 100 Clematis St. | West Palm Beach | FL, USA |
| October 19 6PM | Books & Books 65 Aragon Ave. | Coral Gables | FL, USA |
| October 21 1PM | Vero Beach Book Center 2145 Indian River Blvd. | Vero Beach | FL, USA |
Spring
| Date/Time | Venue | City | State/Country |
| --- | --- | --- | --- |
| March 8 6:30PM | Bristol Grammar School, University Road | Bristol | UK |
| March 9 7:00PM | Ottakar's Milton Keynes |  ? | UK |
| March 10 6:30PM | Ottakar's 11-17 Castle Street | Norwich | UK |
| March 11 1:30PM |  ? | Chelmsford | UK |
| March 12 | Oundle Festival of Literature |  ? | UK |
| April 12-15 | Wexford Literature Festival | Ireland | UK |
| April 25 | Writing On the Walls (WOW) | Liverpool | UK |
Fall
| Date/Time | Venue | City | State/Country |
| --- | --- | --- | --- |
| October 1 3:00PM-5:00PM | A Children's Place 4807 NE Fremont | Portland | OR, USA |
| October 2 3:00PM-5:00PM | First Unitarian Church 1011 SW 12th Ave | Portland | OR, USA |
| October 4 6:00PM-8:00PM | Borders 7227 Bridgeport Road | Tigard | OR, USA |
| October 5 7:00PM-9:00PM | Salem Public Library 585 Liberty St. SE | Salem | OR, USA |
| October 6 5:00PM-7:00PM | Mittleman Jewish Community Center 6651 Southwest Capitol Highway | Portland | OR, USA |
| October 8 2:00PM-4:00PM | Barnes & Noble 1163 Valley River Center | Eugene | OR, USA |
| October 9 2:30PM-4:30PM | Barnes & Noble 1720 N. Jantzen Beach | Portland | OR, USA |
| October 11 7:00PM-9:00PM | University Temple United Methodist Church 1415 NE 43rd | Seattle | WA, USA |
| October 12 6:00PM-8:00PM | Borders 1824 South 320th St | Federal Way | WA, USA |
| October 13 7:00PM-9:00PM | Lincoln Theatre 712 South First Street | Mt. Vernon | WA, USA |
| October 15 1:00PM-3:00PM | Barnes & Noble 19401 Alderwood Mall Parkway | Lynwood | WA, USA |
| October 16 2:00PM-4:00PM | Barnes & Noble 626 106th Ave NE | Bellevue | WA, USA |
| October 18 7:00PM-9:00PM | Third Place 17171 NE Bothell Way | Lake Forest Park | WA, USA |
| October 19 7:00PM-9:00PM | Eagle Harbor Books 157 Winslow Way East | Bainsbridge Isl. | WA, USA |
| October 20 6:30PM-8:30PM | Parkplace 348 Parkplace Center | Kirkland | WA, USA |
| October 22 2:00PM-4:00PM | Barnes & Noble 1530 Black Lake Blvd Sw | Olympia | WA, USA |
| October 23 2:00PM-4:00PM | Borders 16549 NE 74th St | Redmond | WA, USA |
| October 25 7:00PM-9:00PM | Cody's Books 1730 Fourth Street | Berkeley | CA, USA |
| October 26 7:00PM-9:00PM | Petaluma Community Center 320 North McDowell Blvd | Petaluma | CA, USA |
| October 27 6:30PM-8:30PM | Books Inc. 3515 California Street | San Francisco | CA, USA |
2004
Spring
| Date/Time | Venue | City | State/Country |
| --- | --- | --- | --- |
| February 18 | Coventry Central Library | Coventry | UK |
| March 4 | Waterstones Bookstore on Bold Street | Liverpool | UK |
Fall
| Date/Time | Venue | City | State/Country |
| --- | --- | --- | --- |
| September 12 4:00PM-5:30PM | Book Revue 313 New York Avenue | Huntington | NY, USA |
| September 14 6:00PM-8:30PM | Dana Hall School 37 Cameron Street | Wellesley | MA, USA |
| September 15 6:00PM-7:30PM | Tatnuck Booksellers 335 Chandler St. | Worcester | MA, USA |
| September 16 4:00PM-5:30PM | Buttonwood Books Cushing Plaza (Route 3A) | Cohasset | MA, USA |
| September 18 1:00PM-2:30PM | Water Street Bookstore 117 Water St. | Exeter | NH, USA |
| September 19 2:00PM-3:30PM | Borders Books & Music 739 Donald J. Lynch Blvd. | Marlborough | MA, USA |
| September 21 4:00PM-5:30PM | The Bushnell-Sage Library, 48 Main Street (Route 7) | Sheffield | MA, USA |
| September 22 4:00PM-5:30PM | Odyssey Books 9 College St. | South Hadley | MA, USA |
| September 23 7:00PM-8:30PM | Barnes & Noble 98 Middlesex Turnpike | Burlington | MA, USA |
| September 25 3:00PM-5:30PM | Toys, Etc., 11325 Seven Locks Road | Potomac | MD, USA |
| September 26 2:00PM-3:30PM | The Children's Bookstore 737 Deepdene Road | Baltimore | MD, USA |
| September 28 6:30PM-8:00PM | Junior Editions, 10300 (2048 Columbia Mall) | Columbia | MD, USA |
| September 29 6:00PM-7:30PM | A Likely Story 1555 King Street | Alexandria | VA, USA |
| September 30 6:00PM-7:30PM | Jabberwocky 810 Caroline St. | Fredericksburg | VA, USA |
| October 2 1:00PM-2:30PM | Bay Books 23415 Three Notch Rd. | California (city) | MD, USA |
| October 3 1:00PM-2:30PM | Compleat Bookseller 301 High St. | Chestertown | MD, USA |
2003
Spring
| Date/Time | Venue | City | State/Country |
| --- | --- | --- | --- |
| March 4 4:15PM | Bexley Heath Library Thamesmead Centre |  ? | UK |
| March 5 6:00PM | Methvens Canterbury | Kent | UK |
| March 6 7:00PM | Hammicks Ashford Ashford | Kent | UK |
| March 7 7:00PM | Waterstones | Tunbridge Wells | UK |
| March 31 | Barnes & Noble | Austin | TX, USA |
| April 1 | Treehouse Readers | Houston | TX, USA |
| April 3 | Katy Budget Books | Houston | TX, USA |
| April 5 | Watermark Books | Wichita | KS, USA |
| April 6 | Brace Books | Ponca City | OK, USA |
| April 7 | Novel Idea | Tulsa | OK, USA |
| April 9 | Full Circle | Oklahoma City | OK, USA |
| April 10 | Best of Books (Edmund, OK) | Oklahoma City | OK, USA |
| April 12 | Million Story Book Co. | Ft. Wayne | IN, USA |
| April 13 | Books & Co. | Dayton | OH, USA |
| April 14 | Cover to Cover | Columbus | OH, USA |
| April 16 | Learned Owl | Hudson | OH, USA |
| April 17 | Fireside Books | Cleveland | OH, USA |
| April 19 | Joseph Beth (Shaker Heights) | Cleveland | OH, USA |
| April 21 | Borders | Pittsburgh | PA, USA |
| April 23 | Changing Hands (Tempe, AZ) | Phoenix | AZ, USA |
| April 24 | Kids Center | Tucson | AZ, USA |
| April 26 | LA Times Book Festival | Los Angeles | CA, USA |
Fall
| Date/Time | Venue | City | State/Country |
| --- | --- | --- | --- |
| August 9 10:00AM | The Main Theatre Edinburgh Book Festival | Scotland | UK |
| August 10 1:30PM | The Lloyds TSB Scotland Children's Theatre, Edinburgh Book Festival | Scotland | UK |
| September 22 4:00PM | Waterstones High Street Branch | Guildford Surrey | UK |
| September 23 6:30PM | City Books | Brighton Hove | UK |
| September 24 7:00PM | Ottakars Lecture Theatre at the Salisbury and South Wiltshire Museum | Salisbury | UK |
| September 25 6:30PM | Waterstones Bennett Street | Bath | UK |
| September 26 6:30PM | Blackwell's 89 Park Street BS1 5PW | Bristol | UK |
| September 27 4:00PM-5:00PM | The Word Literature Festival The Polka Theatre,240 the Broadway. | Wimbledon, London | UK |
2002
Summer
| Date/Time | Venue | City | State/Country |
| --- | --- | --- | --- |
| June 5, 12 noon | Hay Festival, Nestle Smarties Geodome | Cambridge | UK |
Fall
| Date/Time | Venue | City | State/Country |
| --- | --- | --- | --- |
| October 4 | Black Forest | Charlotte | NC, USA |
| October 5 2PM-4PM | Quail Ridge | Raleigh | NC, USA |
| October 6 | Barnes & Noble | Durham | NC, USA |
| October 8 | Kids Ink | Indianapolis | IN, USA |
| October 9 | Teacher's Delight | Lafayette | IN, USA |
| October 11 | Anderson's/Elmhurst | Chicago | IL, USA |
| October 12 | Border's Geneva | Chicago | IL, USA |
| October 13 | Hammes Bookstore | Notre Dame | IN, USA |
| October 17 | Prairie Lights | Iowa City | IA, USA |
| October 18 | Learning Post | Des Moines | IA, USA |
| October 20 | Nicola's Little Professor | Ann Arbor | MI, USA |
| October 22 | Half Way Down the Stairs | Rochester | MI, USA |
| October 23 | Read Between the Lines | Milford | MI, USA |
2001
Spring
| Date/Time | Venue | City | State/Country |
| --- | --- | --- | --- |
| March 22 7:30pm-9:30pm | Barnes & Noble 240 East 86th St. | New York | NY, USA 10028 |
| March 24 4:00pm-6:00pm | Politics & Prose 5015 Connecticut Ave. | Washington | DC, USA 20008 |
| March 27 6:30pm-8:30pm | Davis Kidd Booksellers 387 Perkins Road Extended | Memphis | TN, USA 38111 |
| March 28 10:30am-12:30pm | Square Books 160 Courthouse Square | Oxford | MS, USA 38655 |
| March 29 3:00pm-5:00pm | Maple Street Children's Book Shop 75 Maple Street | New Orleans | LA, USA 70118 |
| March 29 7:00pm-9:00pm | Barnes & Noble 3721 Veterans Blvd. | Metairie | LA, USA 70002 |
| March 31 6:30pm-8:30pm | Books & Books 265 Aragon Avenue | Coral Gables | FL, USA 33134 |
| April 1 3:00pm-5:00pm | Vero Beach Book Center 2145 Indian River Blvd. | Vero Beach | FL, USA 32960 |
| April 4 5:00pm-7:00pm | Media Play 6449 East State Street | Rockford | IL, USA 61108 |
| April 5 7:00pm-8:30pm | Norris Cultural Arts Center St. | Charles | IL, USA |
| April 7 11:00am-1:00pm | Harry W. Schwartz Bookshop 17145 D. Bluemound Rd. | Brookfield | WI, USA 53005 |
| April 7 4:30pm-6:30pm | Borders 8705 N. Port Washington | Fox Point | WI, USA 53217 |
| April 8 3:00pm-5:00pm | Barnes & Noble 3225 W. 68th Galleria Shopping Center | Edina | MN, USA 55435 |
| April 9 12:00-2:00pm | Pied Piper Miracle Mile Shopping Center, 8-17th Ave. NW | Rochester | MN, USA 55901 |
| April 9 6:00pm-8:00pm | Red Balloon 891 Grand Ave. | St. Paul | MN, USA 55105 |
| April 11 1:00pm-3:00pm | Borders 7700 Forsyth Blvd. | Clayton | MO, USA 63105 |
| April 11 6:00pm-8:00pm | Piece of Mind 1530 Troy Rd. | Edwardsville | IL, USA 62025 |
| April 12 12:00-2:00pm | University Bookstore University of Missouri Campus, T. A. Brady Commons | Columbia | MO, USA 65211 |
| April 13 9:30am-11:30pm | Rainy Day Books 707 W. 47th St. | Kansas City | MO, USA 64112 |
| April 13 1:00pm-3:00pm | Last Chapter Books 9875 W. 87th Street | Shawnee Mission | KS, USA 66212 |
| April 14 10:00am-12:00pm | The Children's Book Shop 937 Massachusetts Street | Lawrence | KS, USA 66044 |
| April 14 3:00pm-5:00pm | Reading Reptile 4120 Pennsylvania | Kansas City | KS, USA 64111 |
| April 16 10:00am-12:00pm | Children's Book World 10580 1/2 W. Pico Blvd. | Los Angelos | CA, USA 90064 |
| April 16 4:00pm-6:00pm | Whale of a Tale 4199 Campus Drive, Suite A | Irvine | CA, USA 92612 |
| April 17 11:00am-1:00pm | Borders 3700 Torrance Blvd. | Torrance | CA, USA 90503 |
| April 18 10:00am-12:00pm | Yellow Book Road 8315 La Mesa Blvd. | La Mesa | CA, USA 91941 |
| April 18 7:00pm-9:00pm | Barnes & Noble 10775 Westview Parkway | San Diego | CA, USA 92126 |
| April 20 11:00am-1:00pm | Hickelbee's 1378 Lincoln Ave. | San Jose | CA, USA 95125 |
| April 20 4:00pm-6:00pm | Kepler's 1010 El Camino Real | Menlo Park | CA, USA 94025 |
| April 21 11:00am-1:00pm | Book Passage 51 Tamal Vista Blvd. | Corte Madera | CA, USA 94925 |
| April 21 5:00pm-7:00pm | A Clean Well Lighted Place for Books 601 Van Ness Ave. | San Francisco | CA, USA 94102 |
Summer
Date/Time
Venue
City
State/Country
June 2 3:00pm
Waterstone's 14-16 Bold Street
Liverpool
UK, L1 4DS
June 18 6:30pm
Waterstone's 14 Eastgate Row
Chester
UK, CH1 1LF
June 19 6:30pm
Waterstone's 93 - 97 Albion Street
Leeds
UK, LS1 5AP
June 20 6:00pm
Heffers Trinity Street
Cambridge
UK
June 21 6:00pm
Norfolk Children's Book Centre Wayside Church Lane
Alby, Norwich
UK, NR11 7HB
June 22 11:00am
The Bookworm (school event) 1177 Finchley Road
London
UK
June 23 11:00am
Children's Bookshop 29 Fortis Green Road
Muswell Hill
UK
June 25 6:00pm
Waterstone's The Oracle Holybrook Mall Reading
Swindon
UK
June 26 6:00pm
Hampshire County Libraries Fleet
Hampshire County
UK
June 27 6:00pm
Southampton Central Library
Southampton
June 28 6:00pm
Plymouth Central Library
Plymouth
UK
June 29 6:00pm
Hammick's Unit D, City Arcade
Worcester
UK WR1 2QJ
August 26 1:45pm
The Edinburgh Book Festival Charlotte Square
Edinburgh
UK