Not to be confused with Brinky or Brinkle.
Brink Greyspoke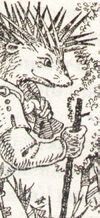 Brink Greyspoke was a fat male Cellarhog of Redwall Abbey. He was friends with Skipper Banjon, who both accompanied Tiria Wildlough to Log-a-Log Urfa's camp.
While traveling with the shrews on the River Moss, Brink was affected by sea-sickness.
Brink was a fine carpenter, and he showed his skills when he repaired the coronet of High Queen Rhulain Wildlough after its discovery. He hammered the coronet back into shape in his cellar, and also helped with the repair of the Lance of Corriam.