Ad blocker interference detected!
Wikia is a free-to-use site that makes money from advertising. We have a modified experience for viewers using ad blockers

Wikia is not accessible if you've made further modifications. Remove the custom ad blocker rule(s) and the page will load as expected.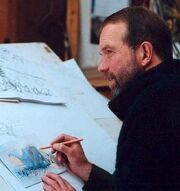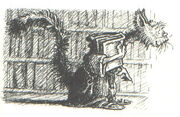 David Elliot is a Redwall chapter icon illustrator and has illustrated seven Redwall books, the most out of any illustrator. He has also provided illustrations for two books in Brian Jacques' other series, Castaways of the Flying Dutchman.
Books
Redwall
Castaways of the Flying Dutchman
Personal Details
Born: 1952, Ashburton , New Zealand
Resides: Port Chalmers, Dunedin, New Zealand
Married, with two teenage daughters
Education
Graduated: Christchurch College of Education
Graduated: 1976 University of Canterbury, New Zealand, Fine Arts (Painting) Degree
Awards
Highly Commended, Best Book, Spectrum Print Book Design Awards (2006)
Winner, Best Children's Book, Spectrum Print Book Design Awards (2006)
Winner, New Zealand Post Children's Book Awards (2003)
Highly Commended, Spectrum Print Book Design Awards (2001)
Honour Award, New Zealand Post Children's Book Awards (2000)
Dunedin Teacher's College Children's Writer in Residence (2000)
Best Illustration Title (Interactive Category), International TV Association NZ for Mungo: CD ROM (1995)
QE II Arts Council Award for Illustration (1995)
Russell Clark Illustration Award (1991)
Other Works
Pigtails the Pirate (2002)
Sydney and the Whalebird (2001)
Sydney and the Seamonster (1999)
Mungo: the only pirate left - CD ROM (1995)
Dragon Tangle (1994)
Arthur's Star (1986)
Illustrated
Nacky Patcher and the Curse of the Dry Land Boats by Jeffrey Kluger (2007)
The Hunting of the Snark [Limited Edition] by Lewis Carroll (2006)
The Eternal Flame [Avalon series] by TA Barron (2006)
The Smell of Powder: History of Duelling in New Zealand by Donald Kerr (2006)
Voyage of Slaves [Castaways series] by Brian Jacques (2006)
Mona Minim & the Smell of the Sun by Janet Frame (2005)
Aunt Effie & the Island that Sank by Jack Lasenby (2005)
Shadow on the Stars [Avalon series] by TA Barron (2005)
Child of the Dark Prophecy [Avalon series] by TA Barron (2004)
Aunt Effie's Ark by Jack Lasenby (2003)
The Angel's Command [Castaways series] by Brian Jacques (2003)
30 New Zealand Stories for Children (2002)
Aunt Effie by Jack Lasenby (2002)
Another 100 New Zealand Poems for Children (2001)
100 New Zealand Poems for Children (1999)
Annie and Rufus by Pauline Cartwright (1999)
Arthur and the Dragon by Pauline Cartwright (1989)
External Links