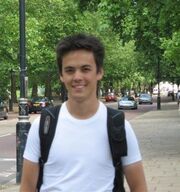 David "Dave" Lindsay is the founder of the official Redwall website, Redwall.org, and was the webmaster from 1996 to 2010.
Dave is from Calgary, Alberta, Canada, and has published two books on web design.
His birthday is June 26, 1984.
Education
Bibliography
Related Sites
Ad blocker interference detected!
Wikia is a free-to-use site that makes money from advertising. We have a modified experience for viewers using ad blockers

Wikia is not accessible if you've made further modifications. Remove the custom ad blocker rule(s) and the page will load as expected.