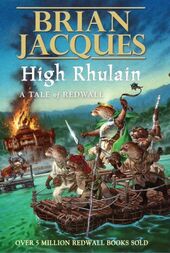 David Wyatt is a Redwall and Castaways of the Flying Dutchman UK cover artist. He created UK covers for all three Castaways novels.
Born: November 28th, 1968, West Sussex, England
Resides: Dartmoor
According to Wyatt, his process involves "Painter and Photoshop."
Books
Wyatt drew British covers for the following:
Triss, Loamhedge, Rakkety Tam, High Rhulain, Eulalia!, Castaways of the Flying Dutchman, The Angel's Command, Voyage of Slaves
Artwork
External Links
Ad blocker interference detected!
Wikia is a free-to-use site that makes money from advertising. We have a modified experience for viewers using ad blockers

Wikia is not accessible if you've made further modifications. Remove the custom ad blocker rule(s) and the page will load as expected.