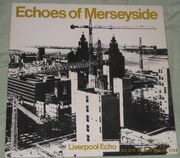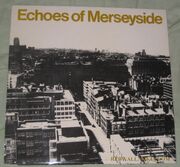 Echoes of Merseyside was a 12" 33RPM stereo LP released by the Liverpool Daily Post and the Liverpool Echo in 1971.
Designed to be a sound and song portrait of Liverpool & Merseyside, local citizen Stan Kelly produced the album. It was originally sold for £1.50, with all proceeds going to the Liverpool Echo 1971 Christmas Appeal for the Old and Needy.
A note from the Liverpool Echo editor Kenneth Stamp on the inside cover states:
This record is for all Merseyside. It is a song made of words and sounds and people. A song fashioned from the hammered plates of great ships. It is the richness of skills, the warmth of humour. Voices of great stars past and present. The roar of worship for the god Soccer. Tongues that combine to produce the almost indefinable quality of life and living that is Merseyside.
This record can only be part of the Merseyside story. But I feel it had to be made. Wherever you are, in a corner of the 'Pool or ten thousand miles away, perhaps you will listen and you will see the Liver Bird looking proudly to the river.
Brian Jacques makes an appearance on the record with Jimmy Tarbuck and Peter Mahoney, discussing Liverpool city life, specifically dockers and dockers' nicknames.
Catalogue #: LPDE 101
Sound Enginers: Nic Kinsey, Alan Abbotts-Tomkins, Mike Abbotts-March
Sound mixed at: Livingston Studios, Barnet, England
Concept: David Cooper
Producer: Stan Kelly, with Transatlantic Records Ltd
Asst. Producer: Lawrence Aston
Instrumental Continuo: Leon Rosselson (Guitar, Banjo, Melodeon)
Length: 52 minutes (26 minutes each side)
Side 1
Arrival
Bessie
Scouse Dialect
City Life - featuring Brian Jacques
Religion
Side 2
1m30s sample of "City Life" - Brian Jacques (
file info
) —