Escape the Gloomer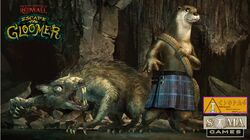 | | |
| --- | --- |
| Developer(s): | Soma Games, Clopas LLC |
| Publisher: | Unknown |
| Released: | Q4 2018 |
| Genre: | Conversational Adventure |
| Platforms: | Steam |
Escape the Gloomer is the fifth episode of the The Lost Legends of Redwall video game series. It was first announced on November 19, 2017 at Free Play Florida (December 8 by Soma Games), and will involve The Gloomer.
Expected release is fourth quarter 2018.
The game is a collaboration between Soma Games and Clopas LLC, the company managed by video game designer and innovator Scott Adams.
Promotional materials for the game indicate a "classic text-adventure with modern updates like speech-to-text options, gorgeous hand-painted artwork, rich atmospheric music [and] professional voice actors."
Characters
Gameplay
Escape the Gloomer will be divided into nine chapters.
Concept Artwork
Video