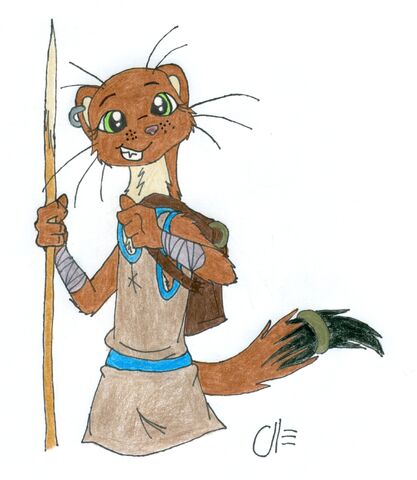 Summary:
This is a sorta scene from my role play Klitchette ll.
Melody slung her knapsack over her shoulder. "Ready to go?" sh asked Aerothorn cheerfully.
Aerothorn inspected his bandaged paws with his snake like red eyes before nodding to her, and getting up. "What was the mission again?" he hissed quietly.
Melody pointed to salamandastron. "Ferahgo wants us to patrol the eastern border of the mountain, and slay any hares we come across. you can do it yourself, but ferahgo wants me to be your temporary assistant for this patrol, so it's just the two of us."
Aerothorn smiled darkly. 'You don't like killing, do you kid?" he asked coldly.
"No, I don't" Melody retorted waspishly.

Aerothorn @ Silverfalcon Pikehawk
Melody @ Ferretmaiden
Ferahgo @ Brian Jaques -- Ferretmaiden

RAWR! I'm An Artist! Fear Me! 15:08, May 23, 2010 (UTC)
Licensing:
Fan Art hosted with permission.
Appears on these pages

of
Do not use these pictures for any reason. you can look at the gallery but do not touch. the old...
File history
Click on a date/time to view the file as it appeared at that time.
Metadata
Ad blocker interference detected!
Wikia is a free-to-use site that makes money from advertising. We have a modified experience for viewers using ad blockers

Wikia is not accessible if you've made further modifications. Remove the custom ad blocker rule(s) and the page will load as expected.