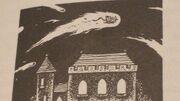 The Fire-swinger is a type of missile weapon used by searats to ignite and destroy enemy ships, and was used by Greypatch and his crew to weaken the defenses of Redwall Abbey. This weapon consists of a length of rope used as a grapnel, to which is attached a rock covered with grass and soaked in lamp oil. The soaked rock is lighted and swung around in circles to give it momentum, and then hurled by the rope across the wall towards the target.
Fire-swinger attacks are very difficult to parry since they are airborne and can set any section of the Abbey on fire, and can be thrown from a distance where the user is safe from returning fire (although it can be outranged by a longbow). The exploding shrapnel from the crashing rock can also cause structural damage and personal injury. Another effect of this weapon is to force the creatures under siege to be in constant alert and under pressure.
The Fire-swinger appears in Mariel of Redwall.
Known Fire-Swinger Users
Ad blocker interference detected!
Wikia is a free-to-use site that makes money from advertising. We have a modified experience for viewers using ad blockers

Wikia is not accessible if you've made further modifications. Remove the custom ad blocker rule(s) and the page will load as expected.