Friar Higgle Stump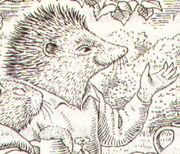 Friar Higgle Stump was the grandson of Jabez Stump and Rosyqueen Stump, son of Jube Stump, the brother of Furlo Stump, husband of Teasel Stump, nephew to 10 anonymous female hedgehogs, and a descendant of Josh Stump.
Although he came from a family of cellar keepers, Higgle was actually a gifted cook and became the head Kitchen Friar at Redwall Abbey. He helped the young Tansy prepare a beautiful cake for Abbot Durral's seventh season as Redwall Abbot. His wife worked as an assistant in Higgle's kitchen and was also a good cook.
Both Higgle and his wife were very down-to-earth creatures and never let the various events at the Abbey interfere with their dedication to serving good meals for all the Abbey dwellers. When Piknim's death plunged the Abbey in great sorrow, Higgle and his wife kept the spirit of the creatures up and allowed them to regain courage and strength through their common sense and gentle words.
Fermald the Ancient dedicated one of the Tears of all Oceans to the Friar, and hid the pearl in the great Summer candle in the kitchen.
Higgle accompanied Martin II, Foremole, Rollo, Abbot Durral, and Wullger to investigate the skeleton of Graylunk in Mossflower Woods.