Furgle the Hermit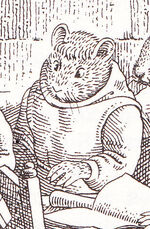 Furgle the Hermit was a white-bearded, wise old inhabitant of Mossflower Woods who met the squirrel Samkim and Arula the mole while they were searching for Dingeye and Thura who had stolen Martin the Warrior's sword from Redwall Abbey. He traveled with them a short ways and found the body of Thura who had apparently died of Dryditch Fever. The Hermit then left young Samkim and Arula and reported the events to Abbess Vale, specifically about the spread of Dryditch Fever. He later advised the elders on the only cure for Dryditch Fever, the Flowers of Icetor, found in the northern mountains.
Not to be confused with Furgale.
Ad blocker interference detected!
Wikia is a free-to-use site that makes money from advertising. We have a modified experience for viewers using ad blockers

Wikia is not accessible if you've made further modifications. Remove the custom ad blocker rule(s) and the page will load as expected.