Furlo Stump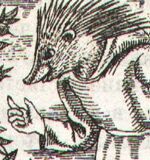 Furlo Stump was the grandson of Jabez Stump and Rosyqueen Stump, son of Jube Stump, brother of Friar Higgle Stump, brother-in-law of Teasel Stump, nephew to 10 anonymous female hedgehogs, and a descendant of Josh Stump.
He was the Cellarkeeper at Redwall Abbey. Furlo was described as strong and fat, and tidy in his cellars. He assisted Rollo, Craklyn, Tansy, and Piknim in retrieving one of the Tears of all Oceans from a firkin of Ambrose Spike's wine.
He was unofficial Beekeeper along with Brother Dormal. Furlo played a Hogtwanger, which he inherited from his father.