Goodwife (Goody) Stickle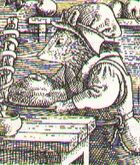 Goodwife Stickle, more commonly known as Goody, was the hedgehog wife of Ben Stickle, and the mother of Ferdy, Coggs, Spike, and Posy.
Goody and her husband adopted and raised Gonff the Mousethief when he was a young orphan; Gonff's parents were said to have died during the rebellion against Verdauga Greeneyes.
Although a peaceful and loving hedgehog, Goody could be very fierce and protective when her children were threatened.
Goody and Ben were farmers and among the very last to leave the area surrounding Kotir and become members of the Corim. Having suffered firsthand the tyranny of the Kotir rulers, Goody and Ben supported wholeheartedly the struggle against Tsarmina Greeneyes. Generous at heart, the Stickles frequently hosted meetings for the Corim and provided food for the fighters. At Brockhall, Goody was famous for her delicious meals. She also acted as a nurse in healing injured fighters, especially Martin the Warrior after his battle against Tsarmina.
Goody was skilled at making earthenware by baking clay in the Redwall Abbey Kitchen ovens. Prior to the existence of the title "Kitchen Friar", she assumed the position of head of Redwall's kitchens.