Grullba Deathwind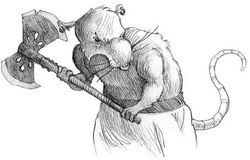 Grullba Deathwind was a big male river rat, and the chieftain of a horde of about five score other rats. He was described as a real barbarian fighter, said to be able to take on any three of his band at once and emerge victorious. He was especially known for his skill with the battle-axe; his own axe had holes forged through the blade so the weapon, when swung, would create a whistling, swishing sound.
Grullba was challenged by Zwilt the Shade for leadership of the horde. They dueled, and Grullba assumed his skill would get the better of the sable. He was wrong, however, as Zwilt overpowered Grullba, took his axe, and beheaded him with it. His decapitated head was thrust onto a pike and presented to Vilaya, who was disgusted by it and had it thrown into a river.
Known Horde Members
Ad blocker interference detected!
Wikia is a free-to-use site that makes money from advertising. We have a modified experience for viewers using ad blockers

Wikia is not accessible if you've made further modifications. Remove the custom ad blocker rule(s) and the page will load as expected.