Gurgan Spearback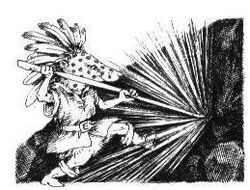 Gurgan Spearback was the leader of the Waterhogs tribe, the husband of Rufftip, the father of Tragglo, the great-grandfather of Drogg Spearback, and great-great-grandfather of Sister Floburt and Brother Egburt. He wore big floppy seaboots and a huge brass buckled belt. Gurgan stuck sea gull feathers in his headspikes, making him look a head bigger than in actuality. He painted his face white with scarlet polka dots, and his weapon of choice was a large tree trunk mallet. He fought very fiercely at the Battle of the Ridge of a Thousand, even slaying the stoat captain Bluggach. Prior to the battle he uplifted the spirits of the small army by insulting the massed vermin, with assistance form Sergeant Torgoch. After the battle Gurgan took over as cellar keeper of Redwall Abbey from Gurrbowl, and his eldest son Tragglo succeeded him as leader of the Waterhogs.
Ad blocker interference detected!
Wikia is a free-to-use site that makes money from advertising. We have a modified experience for viewers using ad blockers

Wikia is not accessible if you've made further modifications. Remove the custom ad blocker rule(s) and the page will load as expected.