Ad blocker interference detected!
Wikia is a free-to-use site that makes money from advertising. We have a modified experience for viewers using ad blockers

Wikia is not accessible if you've made further modifications. Remove the custom ad blocker rule(s) and the page will load as expected.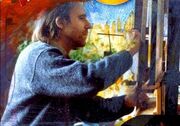 Herman Tulp is one of the Dutch Redwall cover artists. He is a fairly well-known artist and is most famous for his still lifes and other works portraying nature. Tulp has made many exhibitions in the Netherlands.
Born: December 31, 1955, Netherland
Education: Academie Minerva (Academy of Art Minerva), Groningen, Netherland (1980)
Resides: Groningen, Netherland
Awards
Books
Herman Tulp drew the covers for the following Dutch Redwall books:
Redwall (volume 1)
Mossflower (all three volumes, together with Hans Parlevliet)
Mattimeo (volume 3)
Mariel of Redwall (volume 3)
External Links