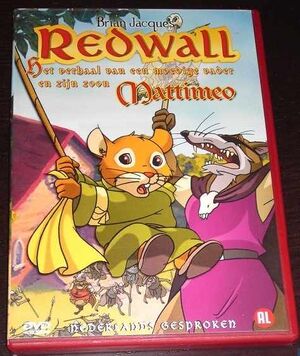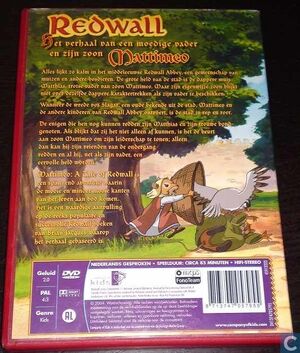 The Het verhaal van een moedige vader en zijn zoon Mattimeo is a Dutch DVD of Redwall - The Movie from the Redwall TV Series.
The official product summary is as follows:
Alles lijkt zo kalm in het middeleeuwse Redwall Abbey, een gemeenschap van muizen en andere bosdieren. De grote held van de stad is de dappere muis Matthias, trotse vader van zoon Mattimeo. Maar zijn eigenwijze zoon blijkt niet over dezelfde dappere karaktertrekken als zijn vader te beschikken.
Wanneer de wrede vos Slagar, een oude bekende uit de stad, Mattimeo en de andere kinderen van Redwall Abbey ontvoert, is de stad in rep en roer.
De enigen die hen nog kunnen redden zijn Matthias en zijn trouwe bondgenoten. Als blijkt dat zij het niet alleen af kunnen, is het de beurt aan zoon Mattimeo om zijn leiderschap te tonen; alleen dan kan hij zijn vrienden van de ondergang redden en al hij, net als zijn vader, een eervolle held worden.
Mattimeo: A Tale of Redwall is een spannend avontuur waarin de mooie en minder mooie kanten van het leven aan bod komen. Het is een waardige aanvulling op de reeks populaire en succesvolle Redwall boeken van Brian Jacques waarop het verhaal gebaseerd is.