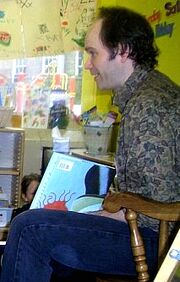 Ian Schoenherr (pronounced YAHN SHOW-EN-HARE) is an American chapter icon illustrator for the Castaways series. He is primarily a children's book illustrator, as well as author.
Resides: Woodside, NY
Education: Cooper Union School of Art, NYC
Other Books
Schoenherr has also illustrated the following:
Pip & Squeak by Ian Schoenherr (2007)
Sleepyhead Bear by Lisa Peters (2006)
Sunrise, Sunset by Sheldon Harnick & Jerry Bock (2005)
Little Raccoon's Big Question by Miriam Schlein (2004)
Books
Ian Schoenherr has drawn illustrations for: Castaways of the Flying Dutchman.
External Links
Ad blocker interference detected!
Wikia is a free-to-use site that makes money from advertising. We have a modified experience for viewers using ad blockers

Wikia is not accessible if you've made further modifications. Remove the custom ad blocker rule(s) and the page will load as expected.