Ad blocker interference detected!
Wikia is a free-to-use site that makes money from advertising. We have a modified experience for viewers using ad blockers

Wikia is not accessible if you've made further modifications. Remove the custom ad blocker rule(s) and the page will load as expected.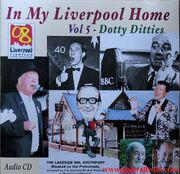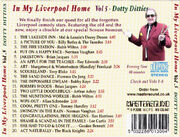 In My Liverpool Home - Vol.5 - Dotty Ditties was the fifth entry into a collection of Liverpudlian songs and sketches released especially for the Liverpool 2008 Capital of Culture celebration.
Brian Jacques appears on 2 tracks of this album, which featured comic songs. The first song was track 5, "Jakestown". The second was track 11, "Formby Woods".
Released: 2008
Length: 60 min.
Produced by: MasterSound
Tracklisting
| | Title | Artist | Length |
| --- | --- | --- | --- |
| 1 | The Lakeside Inn | Mal & Lennie's Dirty Dozen | 4:05 |
| 2 | A Picture of You | Billy Butler & The Tuxedos | 2:10 |
| 3 | The Fire Station | Robb Wilton | 3:00 |
| 4 | Put on a Happy Face | Norman Vaughan | 1:45 |
| 5 | Jakestown | Brian Jacques | 1:39 |
| 6 | An Apple for the Teacher | Roy Edwards | 2:38 |
| 7 | Art | Murgatroyd & Winterbottom (Handley/Frankau) | 3:26 |
| 8 | Scouseland | Tony Blake | 3:15 |
| 9 | The Sand Dance | Florence De Jong | 3:21 |
| 10 | The Impossible Dweam | Bobby Kaye | 2:22 |
| 11 | Formby Woods | Brian Jacques | 3:11 |
| 12 | Two Little Doodlebugs | Arther Askey | 2:55 |
| 13 | The Munitions Worker | Robb Wilton | 4:35 |
| 14 | Wipe-Out | Allan Schroeder | 2:58 |
| 15 | Coom, Pretty One | Tommy Handley | 3:12 |
| 16 | Swingin' in the Rain | Norman Vaughan | 2:43 |
| 17 | Congratulations, Prof. Higgins | Rex Harrison | 3:19 |
| 18 | Shame & Scandal in the Family | Lee Curtis | 2:51 |
| 19 | She had to go & lose it | Gordon Bennett | 2:08 |
| 20 | Act Naturally | The Black Knights | 2:24 |