Jubilation "Jube" Stump
Jubilation Stump, known as Jube for short, was the son of Jabez and Rosyqueen Stump, father of Friar Higgle Stump and Furlo Stump, father-in-law of Teasel Stump, brother to 10 sisters, and a descendant of Josh Stump. When he was born, his father exclaimed "Jubilation!", which became his name.
He was kidnapped by the slaver Slagar the Cruel and soon befriended Mattimeo, Tess and Tim Churchmouse, Sam, Cynthia Bankvole and Auma. He was naturally optimistic and had a cheery disposition. Jube was one of the slaves who attempted to escape.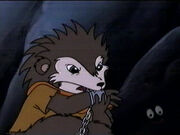 After he was rescued from slavery, Jube and his family moved to Redwall Abbey where they lived in the cellars and helped Ambrose Spike. At some point in his life, he played the Hogtwanger.
Ad blocker interference detected!
Wikia is a free-to-use site that makes money from advertising. We have a modified experience for viewers using ad blockers

Wikia is not accessible if you've made further modifications. Remove the custom ad blocker rule(s) and the page will load as expected.