King Agarnu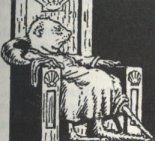 King Agarnu was a Pure Ferret and was the ruler of Riftgard. An overweight coward with a false leg carved from bone, he sent his children Prince Bladd and Princess Kurda to do what he could not: retrieve the royal symbols of Riftguard to prove their royalty.
He had lost them when his father, King Sarengo, had died while fighting the serpents who lived inside Brockhall on an ill-fated trip to Mossflower Woods. Agarnu was the only survivor of that voyage, and had lost his leg in the process of returning home. He was drowned by his rebelling slaves, who cast him into the ocean on his throne.
Ad blocker interference detected!
Wikia is a free-to-use site that makes money from advertising. We have a modified experience for viewers using ad blockers

Wikia is not accessible if you've made further modifications. Remove the custom ad blocker rule(s) and the page will load as expected.