Lady Amber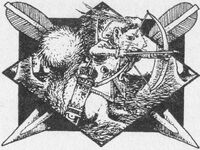 Lady Amber was the queen leader of the squirrels residing in Mossflower Woods that fought against Tsarmina Greeneyes. She was warlike and an excellent archer, as were most of the squirrels under her command. Amber was very good friends with Skipper Warthorn. She killed the traitorous Fortunata with the assistance of Mask. She lost an ear to a mercenary of Bane. Lady Amber also taught Columbine to shoot a bow.
After the Great Mossflower War, Amber beat on a hollow log to announce meals or danger.
In The Redwall Cookbook, Lady Amber is mentioned as the originator of a recipe for Savoury Squirrel Bakes.
Ad blocker interference detected!
Wikia is a free-to-use site that makes money from advertising. We have a modified experience for viewers using ad blockers

Wikia is not accessible if you've made further modifications. Remove the custom ad blocker rule(s) and the page will load as expected.