Laggle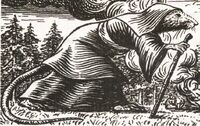 Laggle was the healer of the Brownrat horde. Gruntan Kurdly seemed to take her advice well, but often complained about it (such as when she served him fish instead of his favorite food, eggs). Laggle herself was also disrespectful of rules and allegiances, as when Gruntan died she was the first to realize that no leader meant no rules.
Ad blocker interference detected!
Wikia is a free-to-use site that makes money from advertising. We have a modified experience for viewers using ad blockers

Wikia is not accessible if you've made further modifications. Remove the custom ad blocker rule(s) and the page will load as expected.