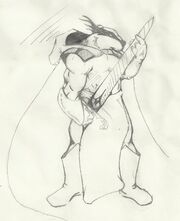 Lord Trawnbull Thickstripe (also known as LordTBT) is the founder and lead administrator for the Redwall Wiki; he is from the United States. LordTBT has been involved with the Long Patrol Club since 1997, mainly in the form of editorials, The Sword of Martin pass-a-long story, and forum attendance. As of 2015, he is one of the longest serving members of the Redwall Online Community.
From about 1997-1999, LordTBT ran a very small Redwall club called Fort Firemountain, located at Geocities: http://www.geocities.com/Area51/Dimension/2415/fr1.html. At one time, it had upwards of 60 people or more.
Character Profile
The actual character of LordTBT has not been invoked in many years, but this was the original profile:
Lord Trawnbull Thickstripe was the last of the Salamandastron Badger Lords, and also the mightiest in terms of physical strength. His weapon of choice was a large broadsword.
The character was based off of Rawnblade Widestripe, and presumed to be a descendant of some sort.
Trivia
You can view LordTBT's entire Brian Jacques collection on his user page.
Related Sites