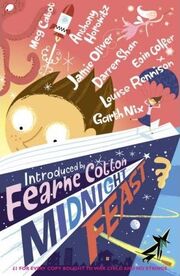 Midnight Feast is a paperback featuring short stories and illustrations put together by the War Child charity, all of which were contributed for free.
Along with authors and illustrators Darren Shan, Anthony Horowitz, Meg Cabot, Eoin Colfer, Garth Nix, Joe Craig, Kath Langrish, Oliver Jeffers, Jonathan Stroud, Maeve Friel, Annie Dalton, Margaret Mahy, Helen Dunmore, Chris d'Lacey, Jamie Oliver, Tony Hart and Eleanor Updale; Brian Jacques has made a contribution to the book, where £1 ($2) from every purchase will go to the War Child and No Strings charities.
The predecessor to this book was Kids' Night In.
A Midnight Feast
The short story Brian contributed is entitled A Midnight Feast, and it is about 6 pages long. It consists of a diary entry detailing a party where almost everything has gone wrong due to the guests, all of which come from classic children's tales and nursery rhymes from "Once upon a time" land (e.g. Puss in Boots, Georgie Porgey, Little Bo Peep, etc.).
Eventually, the police arrive and we learn the narrator is actually "Mr. Piper", father of Tom (from Tom, Tom, the Piper's Son). Mr. Piper has been relocated to a police station for questioning after being reported by his neighbors for all of the calamity caused by his party guests, not to mention the fact that his son Tom actually is in jail for pig thievery.
Release details
Ad blocker interference detected!
Wikia is a free-to-use site that makes money from advertising. We have a modified experience for viewers using ad blockers

Wikia is not accessible if you've made further modifications. Remove the custom ad blocker rule(s) and the page will load as expected.