Myrtle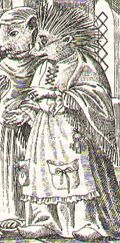 Myrtle was an old female Redwall Abbey hedgehog who often assisted Friar Bunfold in the Kitchen. She drank oat'n'barley water poisoned with wolfbane by Veil Sixclaw meant for Friar Bunfold, but survived with help from Sister Withe.
Not to be confused with Myrtle.
Ad blocker interference detected!
Wikia is a free-to-use site that makes money from advertising. We have a modified experience for viewers using ad blockers

Wikia is not accessible if you've made further modifications. Remove the custom ad blocker rule(s) and the page will load as expected.