Contributed by LordTBT at 11:59PM GMT, 14 May 2008
THIS NEWS POSTING CONTAINS SPOILERS REGARDING Doomwyte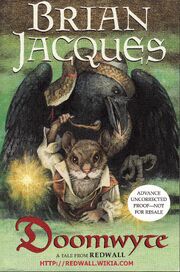 Just like last year, the Redwall Wiki has acquired an advance copy of Brian Jacques' forthcoming 2008 Redwall novel Doomwyte!
The first thing to note is the page count, which is 373. As this is an advance, this count is obviously subject to change between now and October. The novel consists of 39 chapters and 3 book partitions (The Raven, A Prince's Descendants, and Baliss).
As I speculated in recent News updates, indeed the "notorious thief" is Gonff the Mousethief! The tale of why he stole the jeweled eyes of the Great Doomwyte Idol is an intriguing one, and where those jewels are now located provide for a riveting riddle-filled quest for readers to relish.
Doomwyte is a timely return to the well-loved character and his family and friends (Martin the Warrior, Young Dinny, and Columbine are also referenced and some make appearances), given that the last time we saw this crew was approximately 9 years ago, in The Legend of Luke.
I also read a very strange rumor that was circulating, and I'd like to put it to rest: The Abbot is not a mole, he's a dormouse, and the first dormouse to ever become Abbot!
And of course, as observed below, David Elliot has contributed his wonderful illustrations once again.
As first indicated to me by the title, Doomwyte is certainly darker than other Redwall novels, with activities such as plunging a live character into boiling water, and then the consumption of said character by others. I will be exploring Jacques' direction with this book in my upcoming review.
The Redwall Wiki will be posting a full review of Doomwyte with spoilers shortly, watch for the update! In the meantime, ponder on who (or what?) Welzz is...
Related Stories
Want to keep up-to-date on all the latest Redwall and Brian Jacques news, reviews, and special features? Get social with us!
Ad blocker interference detected!
Wikia is a free-to-use site that makes money from advertising. We have a modified experience for viewers using ad blockers

Wikia is not accessible if you've made further modifications. Remove the custom ad blocker rule(s) and the page will load as expected.