Contributed by LordTBT at 2:52AM GMT, 06 July 2008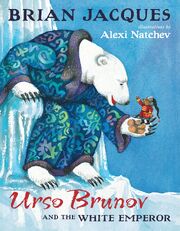 Forthcoming Brian Jacques children's book Urso Brunov and the White Emperor featuring illustrations by Alexi Natchev was lauded in the Dragon Page Cover-to-Cover sci-fi/fantasy podcast. Describing the story as "beautifully illustrated" and "absolutely wonderful", the hosts had nothing but praise for the work, which is due to be published on October 16, later this year. A tiny thing of note is that Urso is mentioned to be a mouse, which of course isn't true; he's a little bear.
You can find the entire podcast, which is approximately 30 minutes, at the link above. However given the length of the podcast, a few instances of language, and the fact that White Emperor is covered at the very end, we have truncated the important section out for your listening pleasure, below.
"White Emperor" reviewed by the Dragon Page Podcast (
file info
) —
Related Stories
Want to keep up-to-date on all the latest Redwall and Brian Jacques news, reviews, and special features? Get social with us!
Ad blocker interference detected!
Wikia is a free-to-use site that makes money from advertising. We have a modified experience for viewers using ad blockers

Wikia is not accessible if you've made further modifications. Remove the custom ad blocker rule(s) and the page will load as expected.