Contributed by LordTBT at 7:33AM GMT, 15 June 2008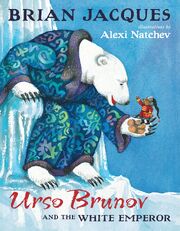 Happy Father's Day to all countries celebrating this Sunday!
Accomplished author and comic book writer Ron Fortier of the Pulp Fiction Reviews blog has posted a brief review of forthcoming Brian Jacques book Urso Brunov and the White Emperor. We are re-posting the text below, and as such it contains important plot spoilers and details. If you do not wish to be spoiled, stop reading now.
Miniature bear chieftain, Urso Brunov, lives in a forest at the top of the world. When two young polar bears, a sister and brother, find themselves stranded on the shore of his kingdom, the little bear comes their rescue immediately. He bravely shoos off a pack of dangerous wolves and then promises the young polar bears he will see them safely returned to their home, the land of the Land of Rainbow Lights.
To achieve this goal, the crafty Urso calls on the air of animals both on the land and in the sea; from wild boards, fleet deer and a giant, friendly whale. In the end he brings the lost bears home and there is rewarded by their father, the noble White Emperor Blanco. The story moves at a fast clip and is never boring for a minute.
Add to this the beautiful art of Alexi Natchev. His work is simplistic and at the same time properly detailed. His pages are never overcrowded and his compositions are balanced and beautiful. He captures emotions with ease and brings these exotic creatures to life with his use of vibrant colors.
This is an excellent book for any child and adult willing to take a few minutes to explore its vivid, imaginative world where a tiny bear is truly giant-size hero. Here is hoping we haven't seen the last of Urso Brunvo.

Another interesting note is that Fortier lists the page count as 45, while Amazon lists the count as 48.
The tale certainly sounds exciting, can't wait for October!
Related Stories
Want to keep up-to-date on all the latest Redwall and Brian Jacques news, reviews, and special features? Get social with us!
Ad blocker interference detected!
Wikia is a free-to-use site that makes money from advertising. We have a modified experience for viewers using ad blockers

Wikia is not accessible if you've made further modifications. Remove the custom ad blocker rule(s) and the page will load as expected.