Contributed by LordTBT at 11:36PM GMT, 16 August 2008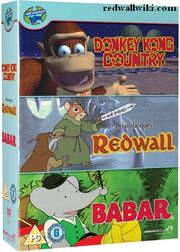 Fremantle Home Entertainment, the UK media outpost which has apparently secured the rights to release Nelvana television shows, will be releasing episodes from the first season of Redwall in a Nelvana boxed set entitled "Nelvana Kids - Boys Collection" on Region 2 DVD September 8th 2008.
Also included in the collection is the Donkey Kong Country animated series, as well as Babar.
The set consists of 3 discs with a running time of 204 minutes. Given that the running time of Redwall - Season 1 is 260 minutes, I am curious as to which bits are included on the DVD.
Retail price for the collection is £9.99, however Amazon lists the price as £5.98.
Related Stories
Want to keep up-to-date on all the latest Redwall and Brian Jacques news, reviews, and special features? Get social with us!
Ad blocker interference detected!
Wikia is a free-to-use site that makes money from advertising. We have a modified experience for viewers using ad blockers

Wikia is not accessible if you've made further modifications. Remove the custom ad blocker rule(s) and the page will load as expected.