Contributed by LordTBT at 11:19PM GMT, 16 February 2008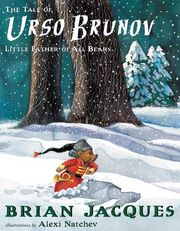 Amazon.com has several new listings for the 2008 year and Brian Jacques!
First, The Doomwytes has finally made an appearance, however it's listed as the title we first reported in September, Doomwyte. I guess it's left to be seen what exactly the final title will be, still no details on the plot yet.
The other exciting news is that apparently there will be a 40-page sequel to 2003's The Tale of Urso Brunov: Little Father of All Bears with illustrator Alexi Natchev entitled Urso Brunov and the White Emperor!
No mention of Castaways Book 4, which could be delayed for 2009.
Doomwyte and the new Urso Brunov are scheduled for release on October 16, 2008.
Related Stories
Want to keep up-to-date on all the latest Redwall and Brian Jacques news, reviews, and special features? Get social with us!