Contributed by LordTBT at 7:48PM GMT, 7 February 2008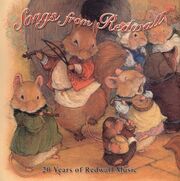 Last Spring, the Redwall La Dita Bookshop released Songs from Redwall, a cd containing 47 selected songs from the Redwall Audio Books.
We may soon be expecting another, according to Redwall fan "Tav_Windpaw", whose friend questioned Brian Jacques on the possibility of another album of Redwall songs on his US tour this past autumn:
"Brian said that there is going to be another music album sometime in the next year or so", and that at that time it was in the early developmental stages.
Stay tuned to the Redwall Wiki as this story progresses.
Related Stories
Want to keep up-to-date on all the latest Redwall and Brian Jacques news, reviews, and special features? Get social with us!
Ad blocker interference detected!
Wikia is a free-to-use site that makes money from advertising. We have a modified experience for viewers using ad blockers

Wikia is not accessible if you've made further modifications. Remove the custom ad blocker rule(s) and the page will load as expected.