Contributed by LordTBT at 5:17AM GMT, 16 June 2008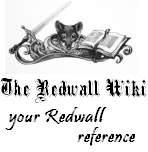 Late in the evening of June 15th (or you could say early this morning), the Redwall Wiki surpassed a historic milestone of 2,500 articles, and as such we have officially joined the ranks of Wikia's biggest wikis!
As a celebration of the culimation of slightly more than 2 and 1/2 years of hard work and dedication from the Redwall Online Community and others, you can now access the Redwall Wiki by navigating to www.redwallwiki.com.
We are requesting all webmasters, bloggers, and anyone else who wishes to link to the Redwall Wiki main page to immediately start using this url. As we do not know how long Wikia will continue to be our primary host, it is important that redwallwiki.com is perceived as the best way to access our front page.
Along with this success, in case you haven't noticed, the Redwall Wiki has completed the character listings for all 19 published Redwall novels! As such, certain statistics regarding species and character counts never before known are now available, and can be viewed here.
Check out a few of the more interesting ones:
The amount of males (1164) greatly outnumbers the amount of females (384) in the saga, with a ratio of about 3:1.
Rats are the most prominent villain, coming in at 244 appearances.
Hares are the most prominent goodie, coming in at 175 appearances.
Thanks again to everyone who has contributed and helped us reach this point, the Redwall Wiki looks forward to continuing to be your Redwall reference and resource. If you're reading this and haven't registered yet, please sign up, we'd love to have your assistance!
Want to keep up-to-date on all the latest Redwall and Brian Jacques news, reviews, and special features? Get social with us!
Ad blocker interference detected!
Wikia is a free-to-use site that makes money from advertising. We have a modified experience for viewers using ad blockers

Wikia is not accessible if you've made further modifications. Remove the custom ad blocker rule(s) and the page will load as expected.