Contributed by LordTBT at 7:03AM GMT, 5 April 2008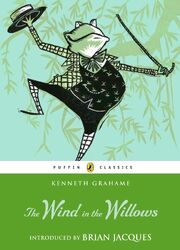 Recently, Puffin Classics re-issued a centennial edition of the Kenneth Grahame best-seller, The Wind in the Willows.
The special thing about this version? Our man Brian Jacques wrote the introduction to the tale. Besides the obvious reasoning for this choice of author (Mr. Jacques also writes anthropomorphic fantasy tales featuring moles, rats, toads, badgers, hedgehogs and otters), the book has been referred to by Brian many times as a childhood favorite and inspirational in interviews.
The introduction comes in at about 2 1/2 pages, and there's only so much to say about such brevity, so I figured some choice quotes from Brian would help. Brian describes why he enjoys the story, and the particular characters.
| | | |
| --- | --- | --- |
| | The Wind in the Willows possesses that quintessential English charm, and fascination, for children of all ages (even mine). | |
| | | |
| --- | --- | --- |
| | However, there is one Ratty and Mole can turn to in times of peril...Badger! Oh yes, imagine a weasel, pursued by Badger...hah! You'd probably hie yourself to the nearest monastery, there to quickly reform your weasely ways. | |
If you've never read The Wind in the Willows, check it out. It was originally published 100 years ago, and you can see a bit of Redwall in it too.
Related Stories
Want to keep up-to-date on all the latest Redwall and Brian Jacques news, reviews, and special features? Get social with us!
Ad blocker interference detected!
Wikia is a free-to-use site that makes money from advertising. We have a modified experience for viewers using ad blockers

Wikia is not accessible if you've made further modifications. Remove the custom ad blocker rule(s) and the page will load as expected.