Contributed by LordTBT at 11:44PM GMT, 10 June 2008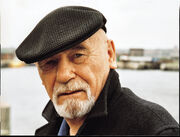 Back in March we reported the existence of an approximately one hour-long downloadable audio recording of Brian Jacques' 2007 tour stop at Symphony Space, New York, available at Audible.com and iTunes.
Hopefully, you downloaded it when you had the chance because it has vanished into cyberspace; seemingly both Audible and iTunes have pulled the listing. Strangely, the same url points to another Thalia Book Club audio download of authors Alexandra Fuller and Wendy Kann.
The Redwall Wiki still has a roughly 5 minute long preview of the Jacques session though, which is available for listening below.
Brian Jacques and Jon Scieszka, NYC 2007 (
file info
) —
Related Stories
Want to keep up-to-date on all the latest Redwall and Brian Jacques news, reviews, and special features? Get social with us!
Ad blocker interference detected!
Wikia is a free-to-use site that makes money from advertising. We have a modified experience for viewers using ad blockers

Wikia is not accessible if you've made further modifications. Remove the custom ad blocker rule(s) and the page will load as expected.