Contributed by LordTBT at 12:31PM EST, 26 March 2007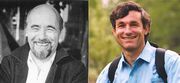 Penguin has a podcast featuring Brian and author T.A. Barron discussing their books, Voyage of Slaves and The Great Tree of Avalon: The Eternal Flame.
The Podcast is a 23 minute, 22 second, 96kpbs quality MP3. It is 16MB. To directly download the file, just right-click here and choose "Save Target As".
Apparently this was released on October 24, 2006, and we overlooked it. If you've never heard Brian speak before, this is a great opportunity.
Brian talks first, and he discusses his influences for Castaways, as well as Voyage of Slaves, He talks for the first 10 and a half minutes.
"Why are pirates so great? Because they just arrrrrrgh."
Want to keep up-to-date on all the latest Redwall and Brian Jacques news, reviews, and special features? Get social with us!
Ad blocker interference detected!
Wikia is a free-to-use site that makes money from advertising. We have a modified experience for viewers using ad blockers

Wikia is not accessible if you've made further modifications. Remove the custom ad blocker rule(s) and the page will load as expected.