Contributed by LordTBT at 7:25AM GMT, 12 August 2008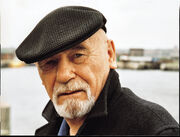 The first known location of Brian Jacques' 2008 US tour has been revealed: Austin, Texas!
Brian will be at BookKids, the children's department of BookPeople, the largest independent bookstore in Texas, at 3PM on October 25th to promote Doomwyte. The last time he was in Texas (and Austin) was 2003, so I think it's safe to assume he will probably be visiting other major cities in the state.
Story Update: 8/14/08 6:40AM GMT
And another Texas city revealed: Houston!
Brian will be at the Houston Brazos Bookstore on October 27, 2008 at 5:00PM.
Want to keep up-to-date on all the latest Redwall and Brian Jacques news, reviews, and special features? Get social with us!
Ad blocker interference detected!
Wikia is a free-to-use site that makes money from advertising. We have a modified experience for viewers using ad blockers

Wikia is not accessible if you've made further modifications. Remove the custom ad blocker rule(s) and the page will load as expected.