Contributed by LordTBT at 6:59PM GMT, 28 September 2007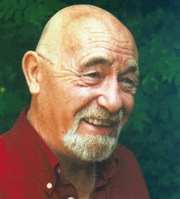 Penguin has sneakily released a podcast featuring Brian Jacques for the Twentieth Anniversary of Redwall. Brian talks about the new edition of the book (which as previously announced will have a new introduction, which he describes as a "letter"), and talks briefly about Eulalia! (and may Brian's pronunciation of the word put all queries to rest!). He mentions Gorath the Flame, the character for whom the novel is about, the two baddies, Vizka Longtooth and Gruntan Kurdly, the Salamandastron ruler Lord Asheye, and another "heroine" who is given her full name, Mad Maudie Mugsberry Thropple, mentioned in summaries as Mad Maudie.
It's a 4:25 256kpbs MP3, and available here. We will be archiving a copy in OGG format soon.
Want to keep up-to-date on all the latest Redwall and Brian Jacques news, reviews, and special features? Get social with us!
Ad blocker interference detected!
Wikia is a free-to-use site that makes money from advertising. We have a modified experience for viewers using ad blockers

Wikia is not accessible if you've made further modifications. Remove the custom ad blocker rule(s) and the page will load as expected.