Contributed by LordTBT at 4:17AM GMT, 30 June 2007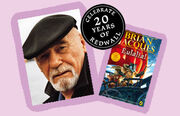 As previously announced, Brian Jacques will be at the Bath Literary Festival on September 30, from 1-2pm.
The festival in Bath, England, is the first of it's kind, and looks to be hosting many authors from Sept. 21st until the 30th.
Recently released was the festival brochure, which says the following about Brian's event, entitled "Celebrating 20 Years of Redwall with Brian Jacques":
Battling badgers! Heroic hares! Fearsome Foxes! 2007 sees the 20th Anniversary of the beloved and world famous Redwall series. Join its creator, best-selling author Brian Jacques, for a fantastic insight into the series across its 20-year success and learn all about the newest title, Eulalia!
The event is described as for ages 9 and above, and located at Guildhall with sponsorship from Puffin. Tickets cost £4, or $8.03.
Tickets go on sale this coming Monday, July 2, and can be ordered in a variety of ways, all of which are detailed here.
Related Stories
Want to keep up-to-date on all the latest Redwall and Brian Jacques news, reviews, and special features? Get social with us!
Ad blocker interference detected!
Wikia is a free-to-use site that makes money from advertising. We have a modified experience for viewers using ad blockers

Wikia is not accessible if you've made further modifications. Remove the custom ad blocker rule(s) and the page will load as expected.