Contributed by LordTBT at 7PM GMT, 18 June 2007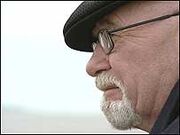 As announced a few weeks back, Brian will be at the Edinburgh Book Festival on August 12, at 1:30PM.
According to the 2007 Edinburgh Book Festival brochure, this is a description of the event:
"The Tale of Redwall series and its memorable heroes have enchanted generations of readers. From fearsome Martin the Warrior to noble Mattimeo, these breathless journeys and epic battles of honour and betrayal will captivate anyone with a true heart and sense of adventure. This chance to celebrate the series' twentieth anniversary with author Brian Jacques is a once-in-a-lifetime treat."
As this is a Book Festival, it is a ticketed event. If you are over the age of 10 or an adult, the ticket is £3.50, or about $6.95.
Tickets go on sale at 9:30AM GMT tomorrow morning, June 19, and can be ordered here.
Related Stories
Want to keep up-to-date on all the latest Redwall and Brian Jacques news, reviews, and special features? Get social with us!
Ad blocker interference detected!
Wikia is a free-to-use site that makes money from advertising. We have a modified experience for viewers using ad blockers

Wikia is not accessible if you've made further modifications. Remove the custom ad blocker rule(s) and the page will load as expected.